---
From a treehouse to a stylish base in Stockholm, JAMES ELLIS shares his favourite places to stay…
---
Miss Clara, Stockholm
---
---
Previously a girls' school and named after a former headmistress, this quirky hotel opened last year and has become a byword for Scandinavian chic. Original 1910 art nouveau touches such as parquet floors blend with vibrant artwork, retro furniture and minimal decor to offer rooms that look as though they could have been styled at any point over the past 100 years. There's also a brasserie, a pizzeria and a bar, as well as a gym and a sauna. Gamla Stan, the old town, is a 15-minute walk away.
---
Room-only doubles start from 1,240 SEK (£105) a night.
00 46 8440 6700, missclarahotel.com
---
Ett Hem, Stockholm
---
---
In a 1910redbrick Arts and Crafts townhouse, this bijou hotel is in one of Stockholm's more residential neighbourhoods, although the city centre is just a few stops away from nearby Östra station. Inside, English designer Ilse Crawford has blended classic Scandinavian design with 21st-century pieces sourced from abroad, such as a gleaming brass cabinet by Jack Trench of London. The shady gardens are designed by the landscape architect Ulf Nordfjell.
---
Room-only doubles start from 3,460 SEK (£294) a night
00 46 8200 590, etthem.se
---
Hotel Flora, Gothenburg
---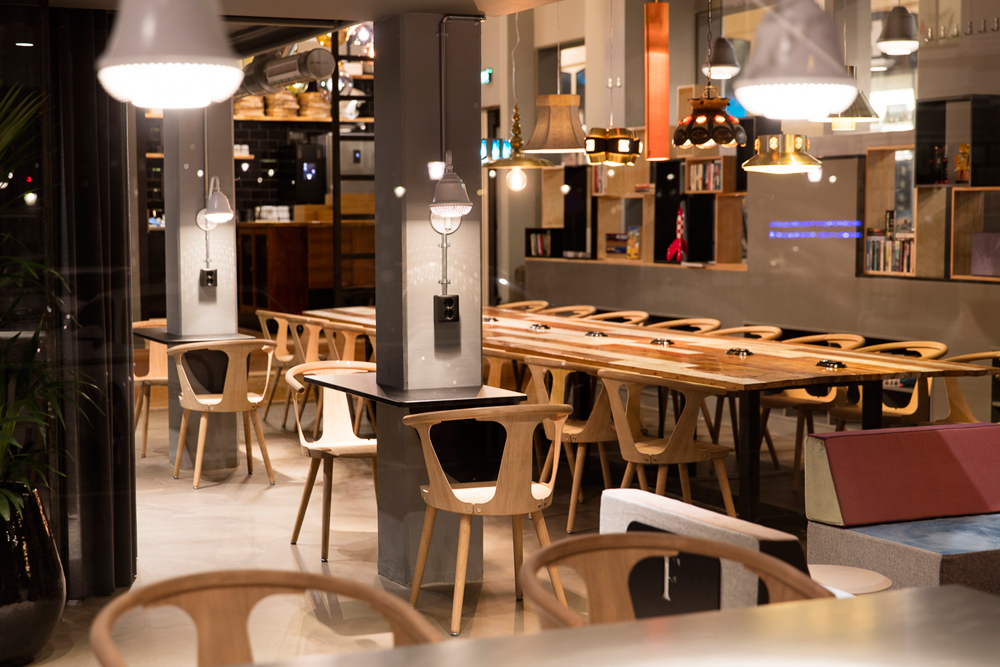 ---
Once part of the Gothenburg fish market and also formerly a hostel, this chic 65-room hotel offers rooms that range from compact but stylish "crash pads" to a royal Swedish suite with a packed Smeg fridge and a terrace. There's a relaxed living room-cum-bar/restaurant on site, with several Michelin-starred eateries near by, and leafy Kungsparkena short walk away.
---
Room-only doubles start from 990 SEK (£84) a night
00 46 3113 8616, hotelflora.se
---
Hotel Pigalle, Gothenburg
---
---
Inspired by "sinful Paris of the early 1900s", there's a touch of boutique bordello to this waterside hotel. Expect rooms with ornate furnishings and colour palettes of deep reds and golds, as well as sumptuous wallpapers and fabrics. The hip glass-roofed Atelier restaurant offers seasonal cuisine while the decadent bar, Amuse, blends DJ sets with cooking demos.
---
Room-only doubles start from 910 SEK (£77) a night
00 46 3180 2521, hotelpigalle.se
---
Treehotel, Harads
---
---
Scandi design, inventiveness and eccentricity come together at this unique hotel in Lapland. Suspended nearly 5m (15ft) high in the forest, there are six unique themed rooms, including one that looks like a UFO, another designed as a giant mirror cube and a third that resembles a bird's nest. Each is unique inside too, with chic furnishings and most with floor-to-ceiling windows. There's a central check-in with a 1950s-style diner, as well as a sauna block that's also suspended in the branches.
---
Seven nights' half-board is from 70,600 SEK (£5,995) for a family of four including flights
020 8682 5080, scottdunn.com
---
Falknästet, Kullabergsvägen
---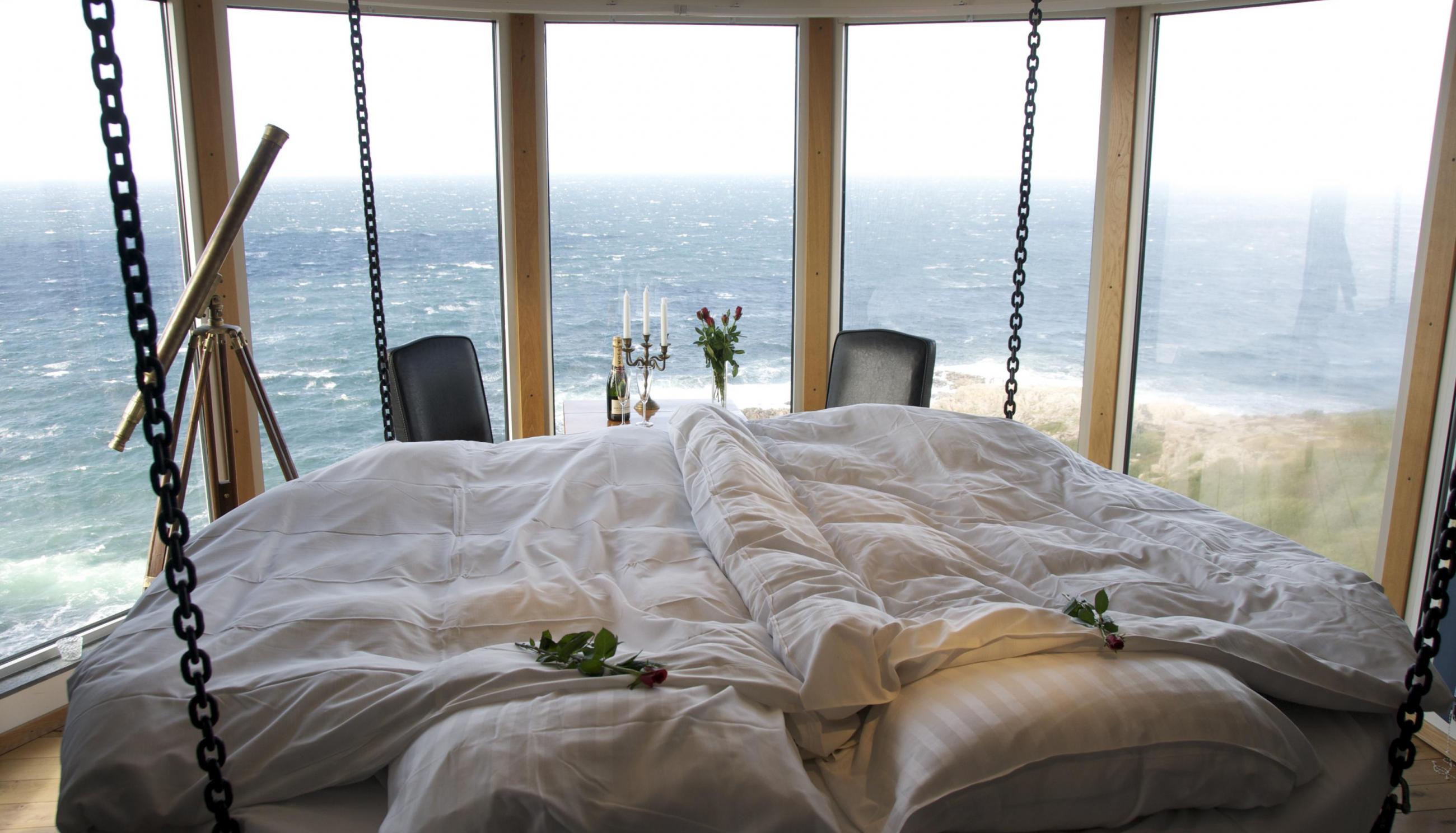 ---
This super-cool one-room hotel is in a lighthouse at the end of a peninsula. It comes with panoramic windows with amazing sea views and a round bed that hangs from the ceiling. There's direct access to a small harbour and beach, and guests can use the facilities of the nearby Grand Hotel Molle where they can also take breakfast.
---
One night's B&B is from 3,180 SEK (£270) for two
00 46 4236 2230, falknastet.se
---
Copperhill Mountain Lodge, Åre
---
---
Åre may be one of Sweden's best ski resorts but it's equally cool in summer thanks to fabulous hiking and mountain biking opportunities in the mountains. This chic lodge by architect Peter Bohlin is one of the best places from which to sample it, thanks to stylish rooms, indoor and outdoor hot springs, and a good kids' club if you take the brood with you. Dining and spa treatments are inspired by the Sami people of Lapland.
---
Seven nights' B&B start from 16,070 SEK (£1,365) per person, including flights and either rail transfers or car hire
01273 224060, skisafari.com
---
Salt & Sill, Kladesholmen
---
---
You get amazing sea views from the luxe lodge on the small island of Kladesholmen on the west coast — it's set over two floating buildings overlooking Bohuslan's outer archipelago. Rooms have clean lines, wooden floors and nautically inspired decor, plus there's a huge sun deck on the roof, diving and swimming decks, and a floating sauna.
---
Seven nights' B&B including three in Gothenburg and four at Salt & Sill is from 12,095 SEK pp (£1,095), including flights
01274 875199, taberhols.co.uk
---
JAMES ELLIS is a former travel editor for Metro.
---
For the latest Nordic news, follow @FikaOnlineBlog on Twitter.
---
This article has also been published in The Times.
---