---
Veronica Lee
Copenhagen, capital of the former happiest country in the world, is regularly voted the happiest city in the world, and has in recent years become something of a beacon for hipsters, given its eminently Instagrammable streets and the supremacy of Danish design. In February Frost brings an immersive celebration of music and light installations to the city. It's the first of many festivals to be held in Copenhagen, encompassing an eclectic mix that includes Distortion festival, dedicated to emerging dance music, and the Copenhagen Opera Festival.
But this is undoubtedly one of Europe's more expensive capitals. So here's a guide to seeing the parts of the city that don't cost much – or, even better, are free.
---
Getting Around
---
---
Copenhagen, being flat, built around waterways and with a compact downtown area, is a very walkable city – and most points of interest are within easy reach of City Hall Square and the Central Station (Københaven H), where the tourist office is situated.
It's also a great city for cyclists, and its reasonably priced Bycyklen rented bike scheme (30 DKK / £3.50, an hour) is a good way to get around. Visitors will be most interested in the historic central area, autonomous neighbourhood Christiania and hipster hub, Vesterbro.
A Copenhagen Card, which can be purchased online or at the airport, gives unlimited use of public transport and free entrance to seventy two museums and attractions for twenty four or forty eight hours (379 DKK or 529 DKK / £43 or £63, up to two children under ten free).
Copenhagen's metro, though steadily growing, is still small. Nevertheless, it can be a useful way to get into town from the airport.
---
Day One
---
---
Take a view…
---
Forget the 50 DKK /£5 entry fee at the City Hall Tower and head to the tower at Christiansborg Palace (Christiansborg Slot), the seat of Danish parliament, instead. It is the tallest in Copenhagen at 106 metres, and entry is free. As Copenhagen is very flat, you can see all the inner-city landmarks, including Tivoli, the huge Victorian pleasure gardens open between April and September.
---
Window shopping…
---
Browsing doesn't cost a thing. Strøget runs from City Hall Square (Rådhusplasen) to Kongens Nytorv and, at 1.1 kilometres, is one of Europe's longest pedestrian streets. It's home to dozens of shops, from cheap souvenir outlets to high-end department stores – including local landmark Illum, which has been trading since 1891, and is the equivalent of Selfridge's in London. Lego, Denmark's most famous export, has its flagship store here and children of all ages can assemble toys and buy box sets that aren't available elsewhere. (Most Strøget shops are open 10am-8pm daily and 11am-6pm Sunday).
---
Take a hike…
---
This walk allows you to sight-see for nothing. Start in Rådhusplasen after popping into City Hall (free entry) its size and grandeur a sign of Denmark's rich sea-faring and empire-building past. Back in the square, notice the statue of its most famous son, Hans Christian Andersen. With Rådhus to your right, turn right into Regnbuepladsen and then left on Løngangstræde, which leads into Magstræde and Snaregade, two of Copenhagen's oldest streets. They still have their original cobbles and a higgledy-piggledy array of different-sized houses with brightly painted plasterwork.
Double back on yourself to turn left into Frederiksholms Kanal, and cross the canal at Marmorbroen bridge, which takes you into Christiansborg Palace, where you got that great view.
Walk through to the other side of the complex, turn right into Christiansborg Slotsplads and continue along Børsgade, where the striking Gothic building on your right is the former stock exchange building. Cross the canal at Børsbroen, into Havngade, right at Holmens Kanal and continue along Holbersgade, which ends at Nyhavn. The colourful houses here were once frequented by rowdy sailors seeking female company in its many taverns, but the area is now the tourist centre of Copenhagen.
Cross the canal at Nyhavnsbroen, continue along Toldbodgade, and eventually on your left is Amalienborg Palace, home of Danish royals. The central forecourt and gardens are public spaces, so enjoy these for free, too.
---
Lunch on the run…
---
Kompagnistræde and Læderstræde form Copenhagen's "food street" with several decent eateries, including Stella and Café Zirup (lunch with a beer costs 140-180 DKK / around £16). Have the good-value breakfast platter (pastry, fruit, cheese, skyr, fish), served all day, or the Danish speciality, smørrebrød (open sandwiches), served at both cafés.
---
An aperitif…
---
Gammel Strand is bar central, and once the weather warms up this lovely old street overflows with tables outside its upmarket bars and restaurants. FUGU serves a terrific seasonal cocktail menu; winter offerings include the warming El Diablo (liquorice-infused tequila, ginger syrup, fresh lime, crème de cassis and ginger beer at 95 DKK / £10).
---
Dine with the locals…
---
Bistro Royal, a large and lively restaurant, serves good-value international cuisine, from smørrebrød and salads to burgers and beef fillet with truffle-infused chips. The generous serving of beef tartare (100 DKK / £11.50) is a bargain. For more romantic dining, the Maven, located in a former church, is suitably candlelit and atmospheric and serves "home-style" hearty Danish dishes including veal shank (215 DKK / £25).
---
Day Two
---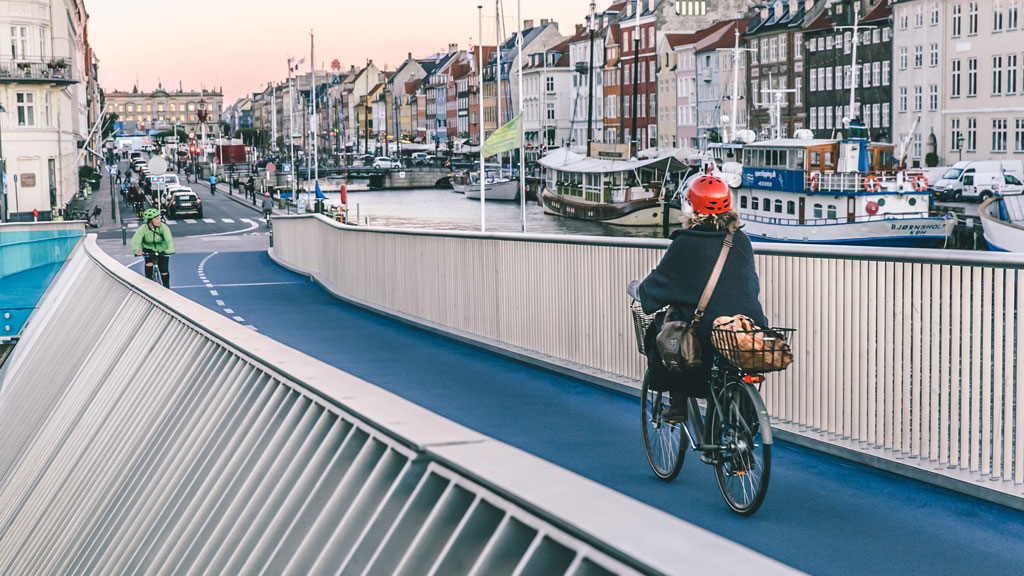 ---
Out to brunch…
---
Copenhagen locals love a leisurely Sunday brunch, and Vesterbro offers clean-eating and some serious people-watching in the capital's coolest area. Fancy half an avocado with chilli oil and baked almonds, or lactose-free yoghurt with homemade berry compote? Then head to Mad & Kaffe (dishes from 75 DKK / £8.50).
---
A walk in the park…
---
Walk across Inderhavnsbroen, the striking new pedestrian bridge at Nyhavn. It's known locally as the "kissing bridge" as, before its two halves were joined in the middle from each bank of the harbour, it looked like two lovers reaching for a kiss. Then wend your way to Christiana – a commune established in 1971 when a group of hippies took over an abandoned military barracks. Now with 850 residents and covering eight acres, it's an eco-city within a city, where the sale of marijuana is tolerated but cars are banned. The area is a colourful collection of homemade houses, workshops, art galleries and cheap organic cafés.
While you're this side of town, visit the Church of Our Saviour (Vor Frelsers Kirke), built in 1752. Its striking serpentine spire dominates the Copenhagen skyline. You can climb the four hundred steps running up the outside of the spire (open Monday to Saturday 10am-4pm, Sunday 10:30am-4pm for 45 DKK / £5).
---
Cultural afternoon…
---
Copenhagen is stuffed with great museums, but two you mustn't miss are the National Museum (Nationalmuseet) and the Ny Carlsberg Glyptotek. The former charts Denmark's history from prehistoric times through the Viking age and Victorian empire-building to modern day (open Tuesday to Sunday 10am-5pm, closed Monday. Entry 75 DKK /£9).
The Ny Carlsberg Glyptotek has extensive collections of Greek, Roman and Egyptian artefacts, as well as 19th- and 20th-century French and Danish paintings (open Tuesday to Sunday 11am-6pm, Thursday until 10pm. Entry is free on Tuesdays but 95 DKK /£12 otherwise). Closed Monday.
---
The icing on the cake…
---
If you were a fan of The Killing, Borgen or The Bridge you will be familiar with the Øresund Bridge, a magnificent eight kilometre structure connecting Copenhagen to Malmö in Sweden. Trains from København H reach Malmö Centralstation in thirty six minutes (from 340 DKK / £38) return), so you can say you popped over to another country for a coffee (admittedly a budget-busting one).
---
VERONICA LEE is a freelance journalist.
---
For the latest Nordic news, follow @FikaOnlineBlog on Twitter.
---
This article has also been published in The Independent.
---