Not since Anders Breivik has there been a more documented trial in Scandinavia. The fall of Danish inventor Peter Madsen has fascinated the world. Now, after eleven days, a verdict has been passed: Madsen is guilty of the murder of Kim Wall…
---
Xander Brett
One of the strangest incidents to emerge from Scandinavia has come to a head. The Danish inventor and minor celebrity Peter Madsen will receive a life sentence without parole, as he was found guilty of the murder of Swedish journalist Kim Wall. Madsen pleads innocent and intends to repeal the verdict, passed by judge Anette Burkoe and a two-person jury at Copenhagen City Court on Wednesday.
---
Who is Peter Madsen?
---
---
Peter Langkjær Madsen is a Danish engineer and entrepreneur. In 2008 he co-founded Copenhagen Suborbitals with architect Kristian von Bengtson. It is the world's only manned amateur space programme. Since its inception the company has flown two mock space capsules and five home-built rockets, and this summer sees the launch of its 'Nexø II' rocket. Madsen left Copenhagen Suborbitals in 2014 to found Rocket Madsen Space Lab ApS at an abandoned shipyard in Refshaleøen, Copenhagen.
---
Who was Kim Wall?
---
---
After graduating from school in Malmö, Kim Wall received a bachelor's degree in international relations from the London School of Economics, then graduated with a dual master's degree in journalism and international relations from Columbia University in New York. Wall worked freelance, reporting for a variety of international publications that included Time, The Guardian and The New York Times. In 2016, the German newspaper Süddeutsche Zeitung awarded her the Hansel Meith Prize for Best Digital Reporting. The night she died, Wall, who lived in Copenhagen with her boyfriend Ole Stokke Nielsen, was preparing to host a farewell party before moving to Beijing.
---
What happened?
---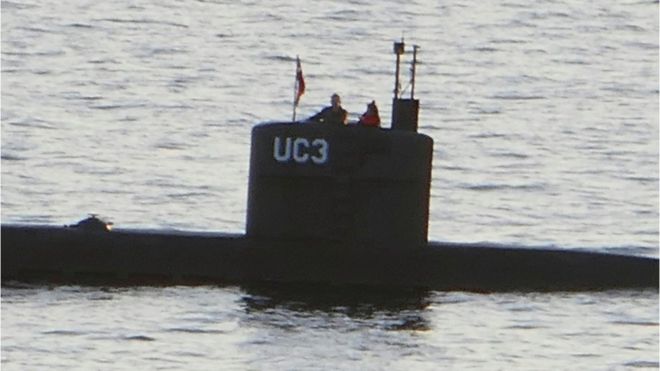 ---
Responding to an e-mail in which Ms Wall requested an interview, Mr Madsen texted her on the evening of 10th August to ask if she was available that night. Her boyfriend said she was afraid to travel in the submarine but, hoping to return to her farewell party later, Wall agreed to a two hour trip with Madsen aboard his forty-tonne midget submarine 'UC3 Nautilus'. A photo (above), the last of Ms Wall alive, shows the pair setting off at around 7pm, and there were two further sightings of the submarine: one at midnight as it neared the Øresund Bridge and the other at 10:30am from a lighthouse the other side of the bridge. By this time the search to find her was underway; her boyfriend having contacted police at 2:30am when she failed to return home.
Responding to a call that he was sinking, the first person to locate Madsen's submarine, Kristian Isbak, said that only as he approached did it begin to sink. Police now think he scuttled it. When arrested, Madsen said he had dropped Ms Wall off at 10:30pm that evening and had not seen her since. But the day after he changed his story, saying she had accidentally been hit on the head by the submarine's 70kg hatch and he had dismembered her body in a panic. Finally, nineteen days later, as parts of Wall's body were found, he changed his story once more and claimed she had died of asphyxiation in while he was on deck.
Her mutilated torso was discovered by a passing cyclist on 21st August and her head, legs and clothing by police divers on 6th October. The torso was said to be punctured about thirty eight times, with fourteen stab wounds around her genital area. In court Madsen admitted to dismembering her body, but consistently denied all counts of murder. A post-mortem concluded that she had been sexually abused, then died either from a cut throat or suffocation. It also stated that drops of blood, from wounds inflicted while she was alive, had splattered onto Mr Madsen's clothes.
The court was later told by prosecutor Jakob Buch-Jepsen that Madsen brought a series of items onto the submarine that night including a saw, plastic luggage strips and a long, sharpened screwdriver, and the jury were shown videos and animations from his hard drive in which women were hung, impaled and decapitated. The night before Wall died Madsen had searched online for 'beheaded girl agony'. He responded by stating that he watched the videos to "cry and feel emotions" and that his computer searches was "pure coincidence". Psychiatrists examining Mr Madsen say he showed "psychopathic traits". To friends, he described himself as "a psychopath, but a loving one".
---
This article is a Fika Online exclusive.
---