From Norwegian forest hideaways to chic Stockholm hotels, there are a wealth of places to spend summer in Scandinavia, says JAMES ELLIS
---
(1) Miss Clara, Stockholm
---
---
Previously a girls' school and named after a former headmistress, this quirky hotel opened last year and has become a byword for Scandinavian chic. Original 1910 art nouveau touches such as parquet floors blend with vibrant artwork, retro furniture and minimal decor to offer rooms that look as though they could have been styled at any point over the past 100 years. There's also a brasserie, a pizzeria and a bar, as well as a gym and a sauna. Gamla Stan, the old town, is a 15-minute walk away.
---
Room-only doubles start from 1,240 SEK (£105) a night.
00 46 8440 6700, missclarahotel.com
---
(2) Ett Hem, Stockholm
---
---
In a 1910redbrick Arts and Crafts townhouse, this bijou hotel is in one of Stockholm's more residential neighbourhoods, although the city centre is just a few stops away from nearby Östra station. Inside, English designer Ilse Crawford has blended classic Scandinavian design with 21st-century pieces sourced from abroad, such as a gleaming brass cabinet by Jack Trench of London. The shady gardens are designed by the landscape architect Ulf Nordfjell. 
---
Room-only doubles start from 3,460 SEK (£294) a night
00 46 8200 590, etthem.se
---
(3) Hotel Flora, Gothenburg
---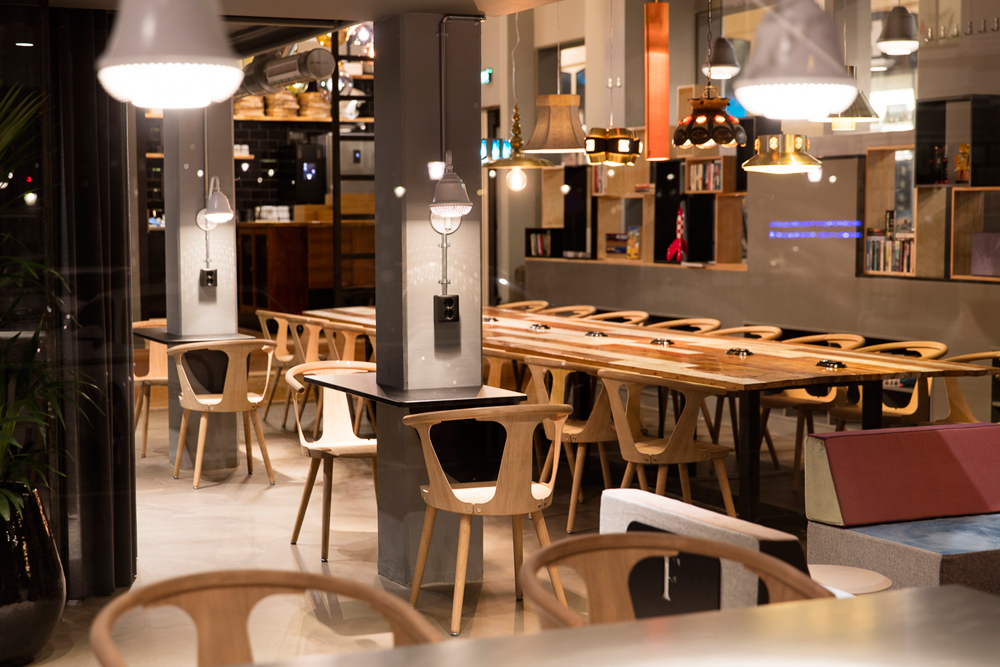 ---
Once part of the Gothenburg fish market and also formerly a hostel, this chic 65-room hotel offers rooms that range from compact but stylish "crash pads" to a royal Swedish suite with a packed Smeg fridge and a terrace. There's a relaxed living room-cum-bar/restaurant on site, with several Michelin-starred eateries near by, and leafy Kungsparkena short walk away.
---
Room-only doubles start from 990 SEK (£84) a night
00 46 3113 8616, hotelflora.se
---
(4) Hotel Pigalle, Gothenburg
---
---
Inspired by "sinful Paris of the early 1900s", there's a touch of boutique bordello to this waterside hotel. Expect rooms with ornate furnishings and colour palettes of deep reds and golds, as well as sumptuous wallpapers and fabrics. The hip glass-roofed Atelier restaurant offers seasonal cuisine while the decadent bar, Amuse, blends DJ sets with cooking demos. 
---
Room-only doubles start from 910 SEK (£77) a night
00 46 3180 2521, hotelpigalle.se
---
(5) Treehotel, Harads
---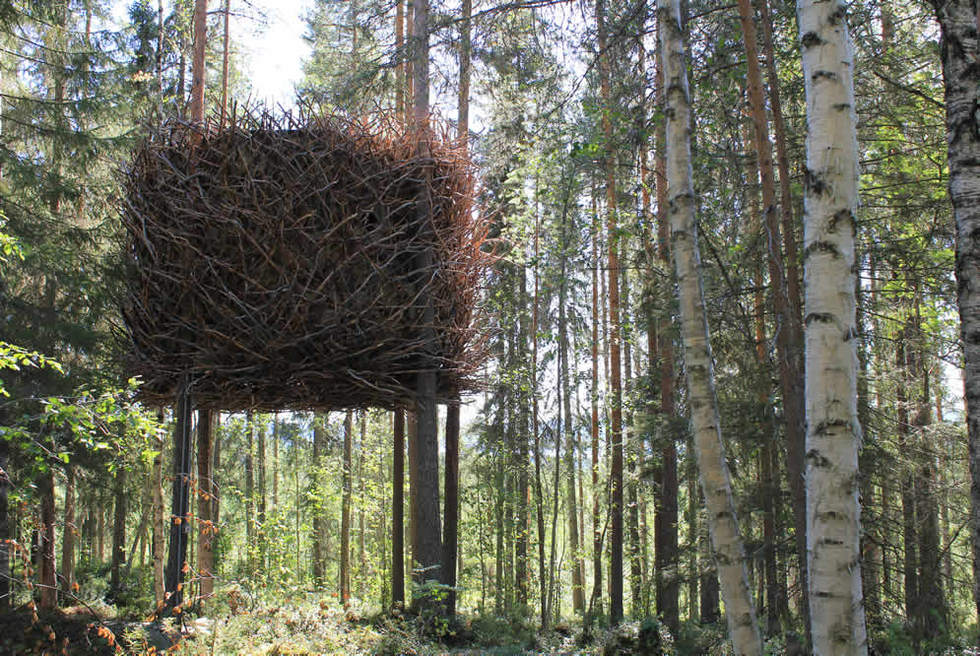 ---
Scandi design, inventiveness and eccentricity come together at this unique hotel in Lapland. Suspended nearly 5m (15ft) high in the forest, there are six unique themed rooms, including one that looks like a UFO, another designed as a giant mirror cube and a third that resembles a bird's nest. Each is unique inside too, with chic furnishings and most with floor-to-ceiling windows. There's a central check-in with a 1950s-style diner, as well as a sauna block that's also suspended in the branches.
---
Seven nights' half-board is from 70,600 SEK (£5,995) for a family of four including flights
020 8682 5080, scottdunn.com
---
(6) Falknästet, Kullabergsvägen
---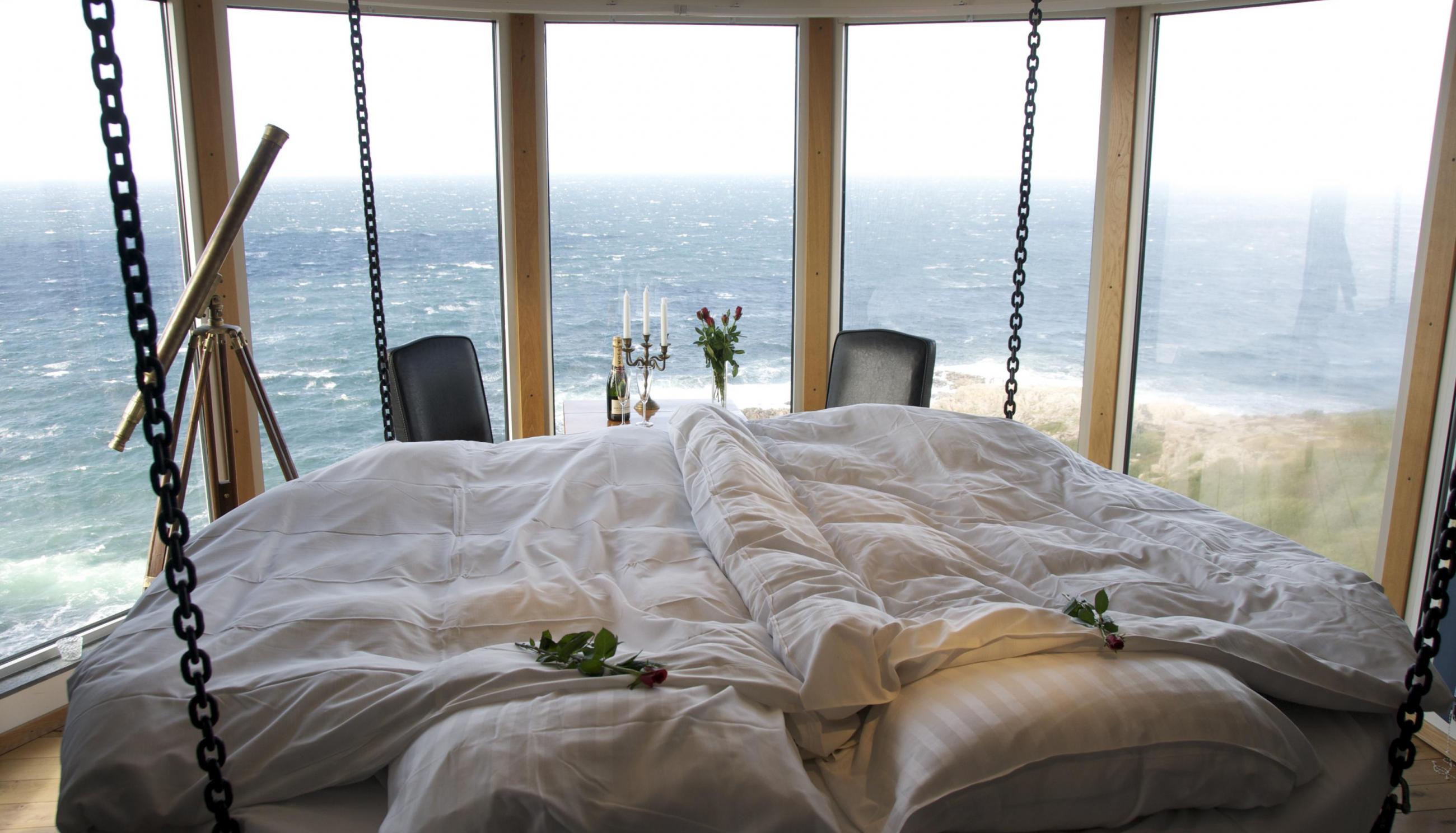 ---
This super-cool one-room hotel is in a lighthouse at the end of a peninsula. It comes with panoramic windows with amazing sea views and a round bed that hangs from the ceiling. There's direct access to a small harbour and beach, and guests can use the facilities of the nearby Grand Hotel Molle where they can also take breakfast. 
---
One night's B&B is from 3,180 SEK (£270) for two
00 46 4236 2230, falknastet.se
---
(7) Copperhill Mountain Lodge, Åre
---
---
Åre may be one of Sweden's best ski resorts but it's equally cool in summer thanks to fabulous hiking and mountain biking opportunities in the mountains. This chic lodge by architect Peter Bohlin is one of the best places from which to sample it, thanks to stylish rooms, indoor and outdoor hot springs, and a good kids' club if you take the brood with you. Dining and spa treatments are inspired by the Sami people of Lapland.
---
Seven nights' B&B start from 16,070 SEK (£1,365) per person, including flights and either rail transfers or car hire
01273 224060, skisafari.com
---
(8) Salt & Sill, Kladesholmen 
---
---
You get amazing sea views from the luxe lodge on the small island of Kladesholmen on the west coast — it's set over two floating buildings overlooking Bohuslan's outer archipelago. Rooms have clean lines, wooden floors and nautically inspired decor, plus there's a huge sun deck on the roof, diving and swimming decks, and a floating sauna.
---
Seven nights' B&B including three in Gothenburg and four at Salt & Sill is from 12,095 SEK pp (£1,095), including flights
01274 875199, taberhols.co.uk
---
(9) The Thief, Oslo
---
---
Art lovers will feel at home at this hotel overlooking the Tjuvholmen canals and Oslofjord. Not only is it next to modern art at the Astrup Fearnley Museum, but it also has a curator who hand-picks works for every room. Each has a strong design element, with furnishings by the likes of Antonio Citterio and Tom Dixon, plus there's a roof garden and a posh spa. 
---
B&B doubles are from 2,186 NOK (£200) a night
00 47 2400 4000, thethief.com
---
(10) Thon Hotel Rosenkrantz, Oslo
---
---
This city centre hotel hasn't been open long, but it quickly shot to the number one spot on TripAdvisor where people are no doubt impressed by the bright, modern (if compact) rooms and an eighth-floor guest lounge with views of the Royal Palace Park, as well as the free coffee and cake. Downstairs, there's a buzzy brasserie where weekend brunch has become particularly popular, plus there's an expansive gym with city views. 
---
B&B doubles are from 1,070 NOK (£98) a night
00 47 2331 5500, thonhotels.com
---
(11) Juvet Landskapshotell, Valldall
---
---
Film director Alex Garland was so impressed with this central Norway hotel that he set most of his latest movie Ex Machina here. The script called for a tree-lined glacial landscape with ultramodern buildings — and the Juvet offers just that: a series of seven concrete, cubist rooms with floor-to-ceiling mirrored windows surrounded by pine trees, plus two wooden "bird nesting boxes" for single travellers. Each is darkened inside to allow for perfect vistas of the surrounding forest, plus there's a riverside spa, a central hub at a 19th-century farmhouse, and dining in a converted barn.
---
B&B doubles start from 2,515 NOK (£230) per night
00 47 95 03 20 10, juvet.com
---
(12) Havnekontoret, Bergen
---
---
Surrounded by fjords and mountains and with a quaint, colourful harbour, Bergen is one of Scandinavia's prettiest cities. This upmarket hotel in a converted waterfront building offers a good base from which to explore thanks to its central location, minutes from the 13th-century Rosenkrantz Tower. Cosy, modern rooms come with DVD players and wi-fi, plus there's a funky relaxation area with sauna. For those worried about sky-high Scandinavian prices, breakfast, afternoon snacks and evening meals
are included. 
---
Half-board doubles start from 1,370 NOK (£125) a night
00 47 5560 1100, nordicchoicehotels.com
---
(13) The Edge, Tromsø
---
---
In the 1800s Tromsø was known as the Paris of the North — not because its waterside setting is anything like the French capital, but because visitors thought the locals were unexpectedly sophisticated. That tradition continues today in hotels such as this hypermodern glass building which opened last year. Cool rooms aside, highlights of a stay include Manhattan-style dining at a Marcus Samuelssonrestaurant, and an 11th-floor bar with city views. 
---
B&B doubles start from 765 NOK (£70)
00 47 7766 8400, nordicchoicehotels.com
---
(14) Herangtunet Boutique Hotel, Heggenes
---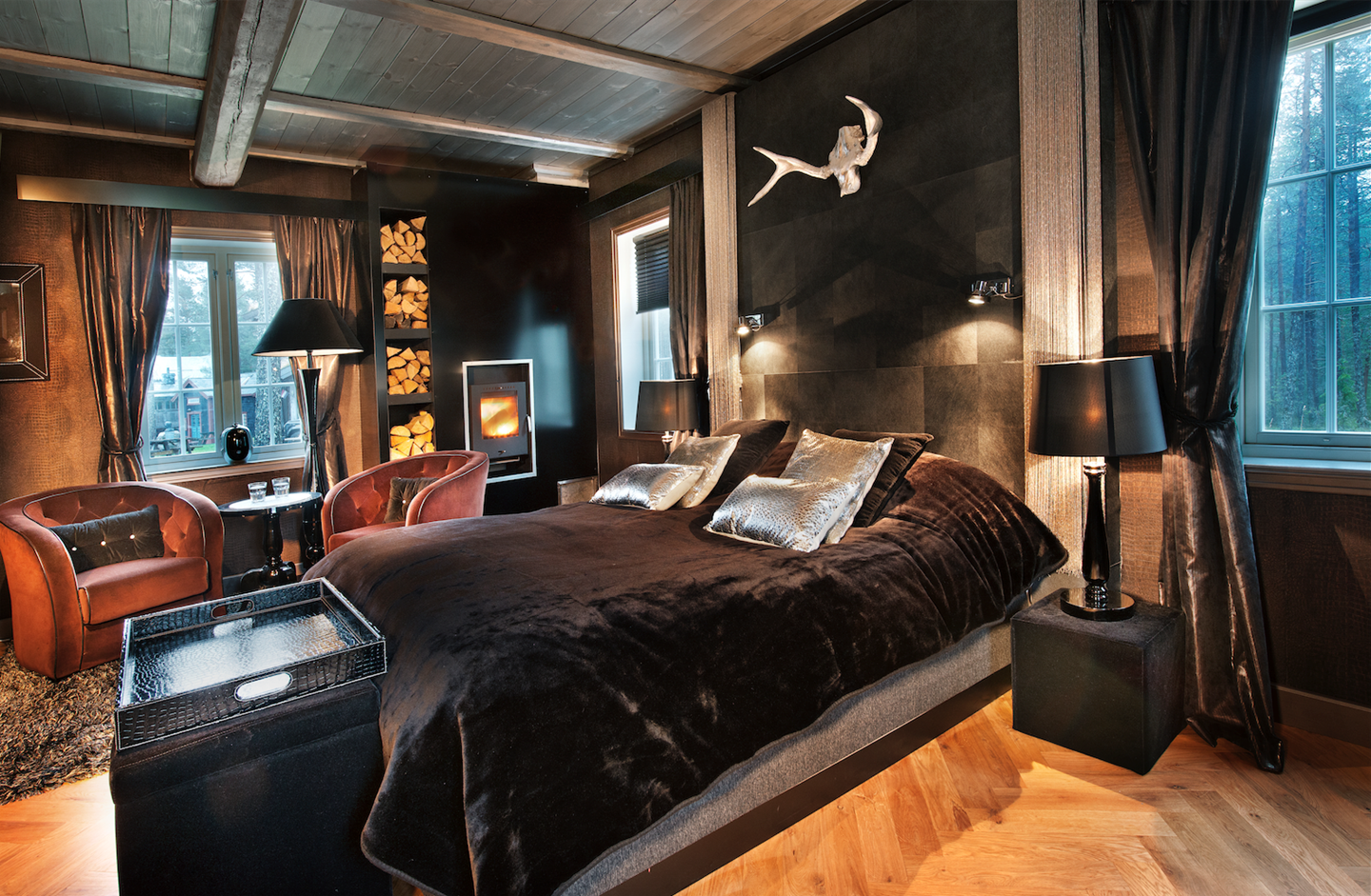 ---
Take a trip around the world with a stay at this chic hotel on the edge of the Jotunheimen National Park; rooms include designs from France, Holland and Iceland and suites themed on London, Rome and New York. It's on a vast estate offering dog sledding and cross-country skiing in winter, and canoeing and hiking in summer. There's also a restaurant with a wood-burning stove, and an apartment for larger parties.
---
B&B doubles start from 1,190 NOK (£109) a night
coolstays.com
---
(15) Urban House, Copenhagen
---
---
Opened this spring, this hipster hangout close to autonomous Christiania wouldn't look out of place in Shoreditch or Hackney. There's an upmarket hot dog restaurant, a cinema and a cool bar, as well as an integrated bike shop and even an in-house tattooist. Rooms and dorms have exposed brick walls and industrial-influenced furnishings, as well as brutally honest signage: the singles are called ShoeBoxes and come with the slogan: "You're single. You wear shoes. The perfect match." 
---
Room-only doubles start from 930 DKK (£80)
00 45 3323 2929, urbanhouse.me
---
(16) Hotel SP34, Copenhagen
---
---
In the Latin Quarter, this new boutique offering has a rooftop terrace with great city views, and rooms with smart TVs and posh smellies by REN. Hip eateries include a burger joint and a tapas bar, and there's an ice-breakling wine social every evening from 5pm-6pm. Key attractions such as Tivoli Gardens are a few minutes' walk away.
---
B&B doubles start from 1,022 DKK (£120) a night
00 45 3395 7777, brochnerhotels.dk
---
(17) Absalon Hotel, Copenhagen
---
---
This hotel underwent a huge refurbishment and reopened this spring. Expect Designers Guild wallpapers and soft furnishings, and bathrooms by French design guru Philippe Starck.Rooms are colour-themed, with "ocean" and "berry" being the standard-bearers and "grass" in the superior rooms. There's a cool bar and bike hire while the trendy Meatpacking District is near by. 
---
B&B doubles are from 810 DKK (£95) a night
00 45 3324 2211, absalon-hotel.dk
---
(18) Falsled Kro, Millinge
---
---
The island of Funen or Fyn is the birthplace of Hans Christian Andersen and is known as the "garden of Denmark". At this country hotel and restaurant in a former staging post in Millinge, they're telling their own foodie stories. Salmon is smoked on site, razor clams are sourced locally, and vegetables and herbs are grown in the grounds. Upstairs, rooms have whitewashed brick walls and exposed wooden beams. 
---
Room-only doubles are from 1,705 DKK (£200) a night
00 45 6268 1111, falsledkro.dk
---
(19) Aarhus Guldsmeden, Aarhus
---
---
This lovely design hotel in Aarhus's Latin Quarter is centred on a bijou garden with fruit trees. The rooms have French colon ial styling with dark wooden furniture, canopied beds and chiffon drapes. Statues and artworks line the corridors,and there's a green ethos, too, with 90 per cent of products used being organic and ethically sourced. A couple of house bikes are available on a first-come, first-served basis.
---
B&B doubles start from 895 DKK (£105)
00 45 8613 4550, guldsmedenhotels.com
---
(20) Henne Kirkeby Kro, Henne Kirkeby
---
---
In West Jutland, yards from the sea and overlooking a shallow lake, this historical inn has been turned into a boutique hotel with food by British Michelin-starred chef Paul Cunningham, and produce sourced from what is said to be the country's biggest kitchen garden. Rooms come with designer beds and mood lighting, as well as artwork by Astrid Kruse Jensen. 
---
JAMES ELLIS is a former travel editor at Metro, he writes for The Times
---