OLE PEDER BERTELSEN was oil tycoon who became a fashion impresario almost by accident. He grew so rich that he once built a harbour in Greece just for his yacht…
---
Ole Peder Bertelsen made his fortune trading in oil before moving into fashion, notably by introducing the Ralph Lauren brand to Britain in 1985 and then by backing John Galliano. "I didn't used to be able to recognise clothes," he once said. "In the old days I used [to] mentally undress women, now I see only their clothes."
His fashion career came about while he was working with some Kuwaiti clients, who were putting money into a ranch in Colorado. "The ranch was on the side of a mountain and Ralph Lauren owned the other side," explained Bertelsen, who claimed not to have heard of the designer at this stage. "He rang me up and said he wanted to buy my side of the mountain. I said it wasn't for sale."
Lauren replied that if Bertelsen would sell, he could run the designer's business interests in Europe: "At this point my American lawyer . . . dragged me out of the room," Bertelsen recalled. "He said it was a good deal and I should take it. He said if I didn't take it, he would take it for himself."
By his own account Bertelsen's first couple of years as a fashion impresario were a baptism of fire. "I knew nothing, nothing at all," he said in 1988. "Now I know something, not a lot, but a bit." He took over Lauren's wholesale operation in Europe, including his flagship store in Bond Street, central London, and soon other designers were seeking a slice of the action.
"Valentino and Armani heard about this crazy Dane who was handling Ralph's interests in Europe," he told The Independent in 1998. "They thought there must be something in it and so they approached me to open flagships for them in London."
---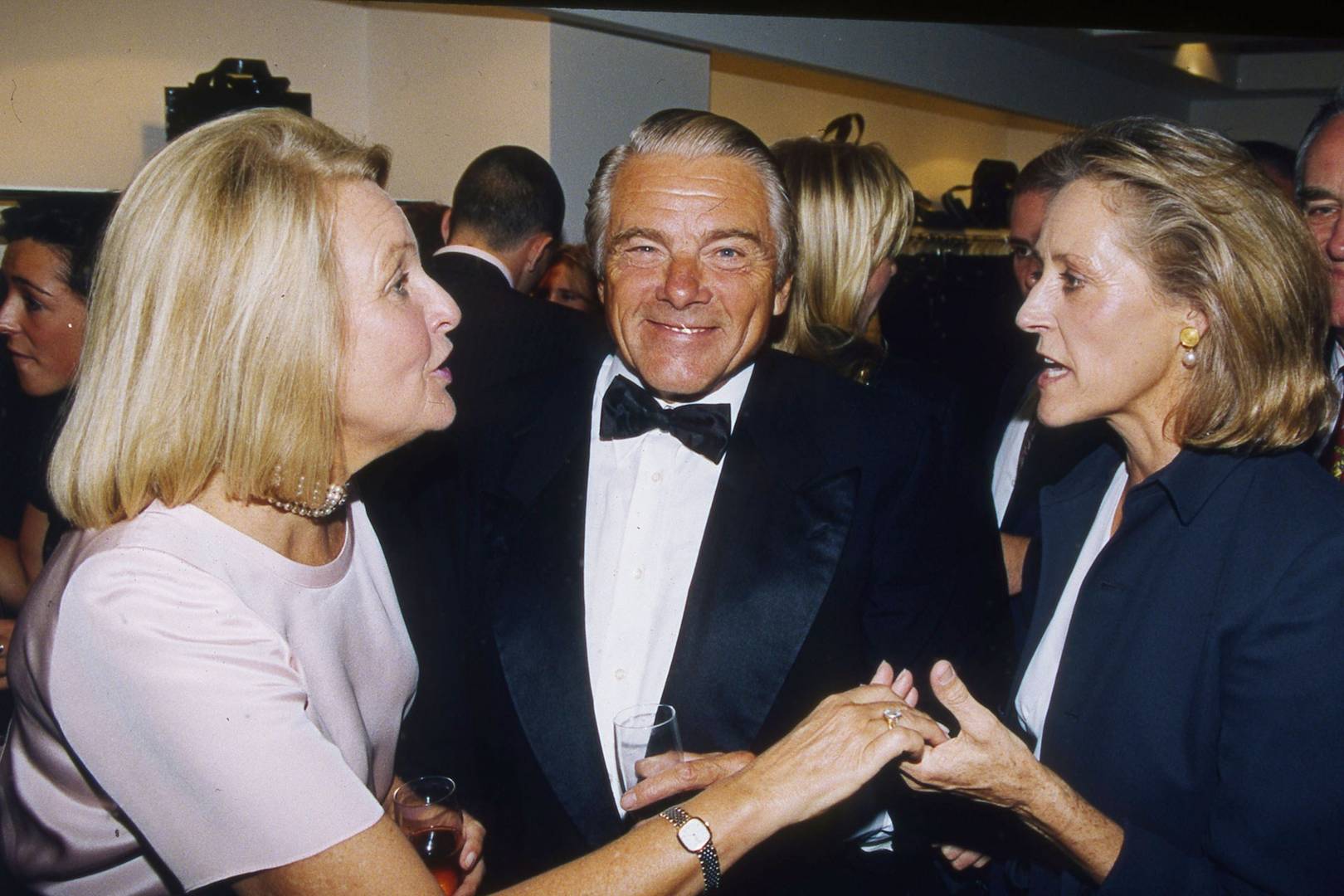 ---
"Valentino and Armani heard about this crazy Dane handling Ralph Lauren's interests in Europe. They thought there must be something in it so they approached me to open some flagships."
---
It soon led to Bertelsen running his own fashion empire. "Two Valentino, two Ungaro, Basile, Soprani . . . Erre Uno, Krizia, one Walter Steiger and Gallery 28, which sells John Galliano and Alistair Blair," he told Nicholas Coleridge in The Fashion Conspiracy (1988). "That is how it is today. There will be new ones, and maybe we will shed some too, we'll see."
Ole Peder Bertelsen was born in the fishing village of Esbjerg on the west coast of Jutland in November 1930. "It is where you take the ferry to get to Harwich," he told Coleridge. "That is all there is to say about Esbjerg." His father, who died when Ole was 14 years old, was a horse trader with business dealings in Poland and Germany; Ole also had a sister, Elsa.
After the Second World War he was sent to England on an exchange visit. "I remember I came to Wimbledon town hall to be met by my foster parents. I said, 'Hello, my name is Ole', and they said, 'Haven't you got a proper name?' And they looked into my passport and saw that Peder is my middle name, so with some relief they called me Peter."
From school he joined Shell, where he asked to see the world and was posted first to Australia before moving round many of the company's other outposts. In 1960 he married Prue Hyne, who was from a well-established Australian family; he was thirty years old and she was twenty. She survives him with their three sons: Michael, who works in property development; Sten, who is in risk management and is married to Susannah Constantine, the fashion journalist and presenter; and Per, who is also in property.
Bertelsen was in Vietnam during the war, seeking opportunities for Shell and thirty years later he identified the country as a lucrative area for developing property. His work with Shell also took him to Sri Lanka and then involved trading oil for the Arab states.
He later founded an oil company with Peter de Savary, the entrepreneur, who remembered him as "an excellent companion in strange lands". It made them both very rich and later Bertelsen would become even richer trading oil in his own name.
The Ralph Lauren operation did not last long before it was taken back into the Lauren organisation. "I didn't know enough then to run Ralph Lauren properly," Bertelsen admitted. "If I'd been in the fashion biz one year longer I could have helped him."
By now Bertelsen had made a conscious decision to come out of oil. Working from a leather-topped desk the size of a ping-pong table at his top-floor office in Grosvenor Gardens, his next move, necessitated by the need for stores, was into commercial property. He also became a strong supporter and backer of younger entrepreneurs and worked in areas such as wine and the internet. "He made money and he lost money," said his son, Sten, "and he treated both those imposters the same."
Throughout his business activities, Bertelsen's family remained central to his life, although his idea of a holiday well spent was one that involved constructing something. On one occasion he decided that his yacht, moored in Greece, needed a harbour and the family flew out with the required tools, including a dismantled winch, to build one.
In 2001 Bertelsen declared that he would be bringing upmarket designer sex toys into the homes of women via Lilestone, a retail company that he chaired. "Sex should be fun, but what we are saying is sex can also be quality," declared a colleague as Bertelsen announced plans to reach the top twenty per cent of women by disposable income, in competition with Ann Summers.
Asked by Coleridge if he ever missed his previous life as a Jutland oil tycoon, Bertelsen replied: "Not often." But he admitted that it had been easier than fashion. "You don't need much in the oil biz, just a phone and a telex. There is a world price. It was only a question of buying at the right time. You know, I've never seen a drop of oil in my life. In fashion you have to see the clothes and make a choice."
---
OLE PEDER BERTELSEN was born on 30th November 1930. He died on 10th July 2018, aged 87.
---
For the latest Nordic news, follow @FikaOnlineBlog on Twitter.
---
This article has also been published in The Times.
---