As the Royal Academy introduces Finnish artist Helene Schjerfbeck to British audiences for the first time, artist IAN MCKEEVER reflects on her searing portraits – works that changed the way he viewed both art and himself…

---
Ian McKeever
In 1975 I was in Helsinki to participate in my first group exhibition abroad, an exhibition of SPACE artists, the London-based studio collective, at the Taidehalli, Helsinki's exhibition space run by the Finnish Artists' Union. The city felt dour, emerging as it was from being sandwiched between Sweden and the Soviets. Each of the visiting artists was allocated a Finnish counterpart as minder-cum-guide. Mine was Timo, a painter and photographer, who also writes. We get on well. On one of the free days Timo took me to the Ateneum Art Museum, which houses part of the Finnish national collection. It was my first introduction to the history of Finnish art, but Timo was good at easing my way in. Some works come easier than others; the snowy landscapes of Akseli Gallen-Kallela for instance, I can thread back to a broader context with relative ease, but at one point we find ourselves in a gallery of smallish still-lifes, landscapes and portraits. It was the work of Helene Schjerfbeck
 and I was both curious and nonplussed. 
They emit a strange discomfort that has to be reciprocated.
---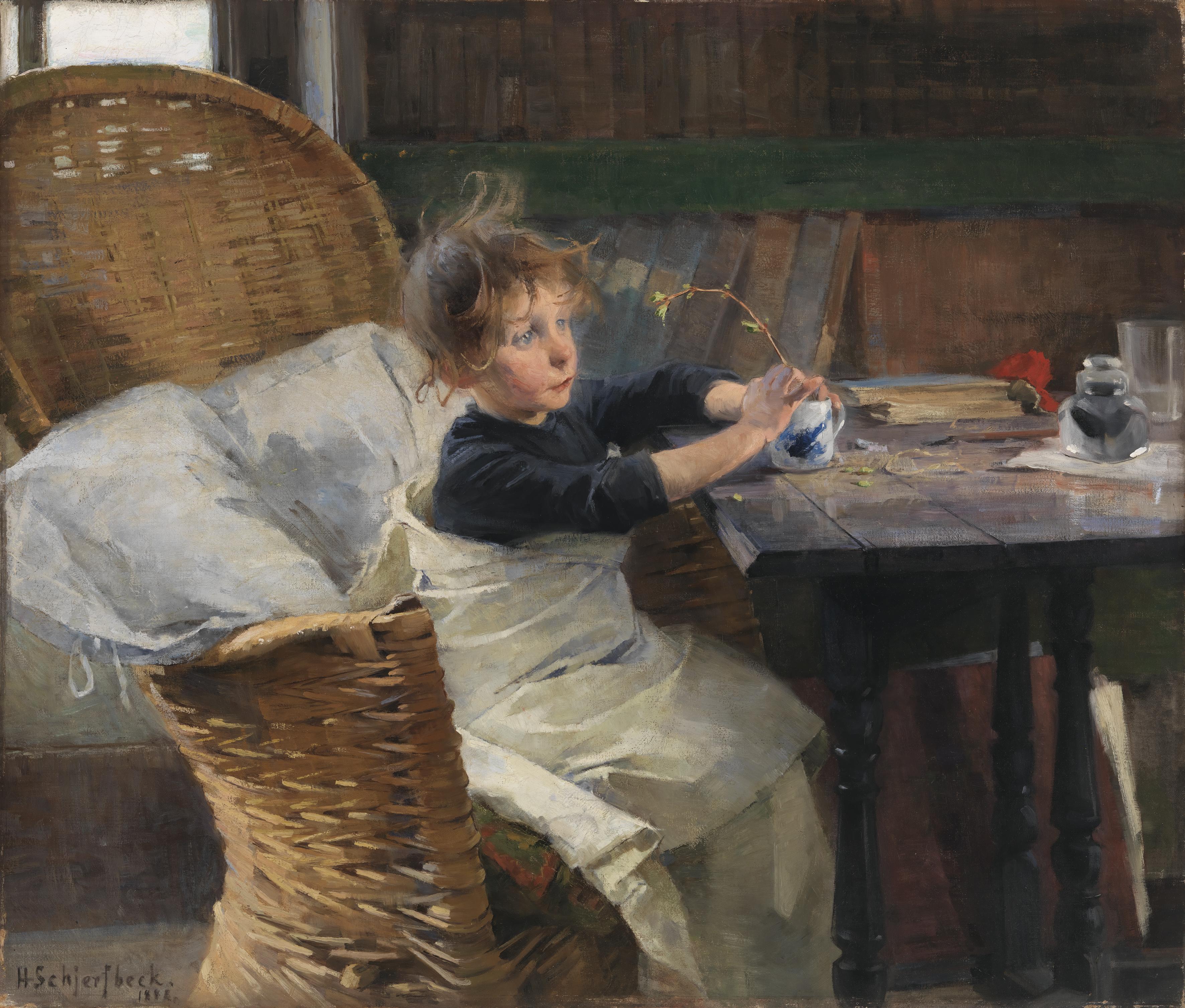 ---
HELENE SCHJERFBECK
Finnish, Helsinki, 1862  – Stockholm, 1946 
Den konvalescerande / The Convalescent (1888)
Suomen Kansallisgalleria / Finlands Nationalgalleri, Helsinki
---
The history of western portraiture began in profile. Fra Filippo Lippi's Profile Portrait of a Young Woman (c. 1445) presents the sitter in profile with the inscrutable quality of a delicate flower. Too fragile to get close to and as immaculate as any portrait on the cover of a twenty first century magazine. It was only in the fifteenth century that the Italian portrait, under influence from the North, slowly began to turn its head to gaze back to the viewer and paintings ceased to be something we behold, becoming instead something we have a shared interest in. In a modest book entitled Piero della Francesca or; The Ineloquent in Art (1954) Bernard Berenson discusses the nature of portraiture.  "I am tempted to conclude," he says, "that in the long run the most satisfactory creations are those which, like Piero's and Cézanne's, remain ineloquent, mute, and with no urgent communication to make, and no thought of rousing us with look or gesture. If they express anything it is character, essence, rather than momentary feeling or purpose." Helene Schjerfbeck's early self-portraits, painted when she was in her twenties and thirties, show a young woman self-consciously looking back at the viewer. The works have an innocent earnestness, expressing a desire to be present in the moment.
---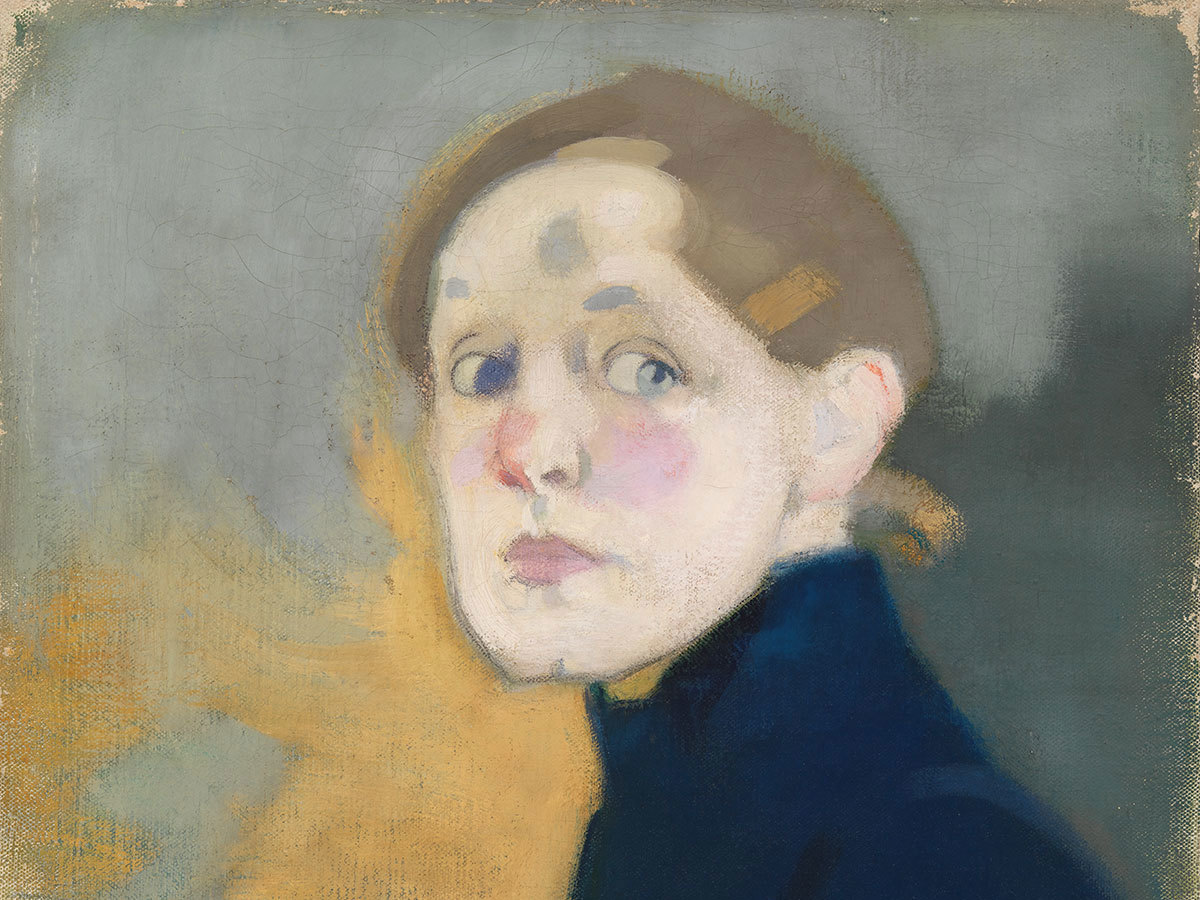 ---
HELENE SCHJERFBECK
Finnish, Helsinki, 1862  – Stockholm, 1946 
Självporträtt / Self Portrait (1915)
Suomen Kansallisgalleria / Finlands Nationalgalleri, Helsinki
---
Later self-portraits from the middle of her career reveal much greater reserve and restraint, with both the muse and background arranged to fitting composure. Composure clothes these paintings like a stiff Protestant collar, and we are held at a distance that is not evident in the early portraits. There is something in these paintings that makes me think of the photographic portraits of Georgia O'Keeffe by Alfred Stieglitz, completed in 1918. O'Keeffe's self-conscious stare and presence divest the photographer of his role, throwing the making back onto the sitter as actively creating an image of the self, as do so many contemporary celebrity images. This somehow flips the photograph over into a controlled, by proxy, self-portrait. A quality self-portraits also seem to hold of doubling back on themselves, of being in and out at the same time. Things change in Schjerfbeck's late self-portraits, and these paintings are more ragged, as we are seeing is not just the ravages of time, but a loss of self. The works have a sense of being more a cipher than a portrait. 
Schjerfbeck was born in 1862 and died in 1946 and was thus a contemporary of Akseli Gallen-Kallela, Vilhelm Hammershøi, Edvard Munch and Hilma af Klint. But, unlike her Klint, Munch and Gallen-Kallela, Schjerfbeck avoided immersing herself in Nordic mythology and folklore, sharing instead a closer affinity with Hammershøi's domestic interiors. Her talent was recognised when she was just eleven years old and she began attending art school. Her family could only afford to educate one of their children (her brother Magnus), but thankfully her tutors believed in her potential and she was offered a full scholarship. When she was just thirteen, her father died from tuberculosis and her family fell further into poverty, but Schjerfbeck continued to receive funding, and by the age of eighteen, she was studying art in Paris on a trip financed by the Finnish government. Though living with limited mobility after a childhood fall that broke her hip, Schjerfbeck travelled widely during her younger years, making trips to Vienna, St. Petersburg, Florence and Paris. Her travels helped shape her unique style and she drew on everything she saw in Europe once back home in rural Finland.
---
---
HELENE SCHJERFBECK
Finnish, Helsinki, 1862  – Stockholm, 1946 
Torkning av kläder / Clothes Drying (1883)
Suomen Kansallisgalleria / Finlands Nationalgalleri, Helsinki
---
It certainly helped that Schjerfbeck lived through one of the most seismic shifts in modern art, the change from Impressionism to Surrealism. But Schjerfbeck was never one to follow the crowd and forged her own path, drawing inspiration anywhere from Old Master paintings to contemporary fashion magazines – in the process developing a distinctive, expressive style. In 1914 she was the only female Finnish artist to take part in the prestigious Baltic Exhibition in Malmö, an event was designed to show off the industry, art and culture of Sweden, Denmark, Germany and Russia but was interrupted when Germany and Russia entered the First World War on opposite sides of the conflict. Some twenty five years later, Schjerfbeck's work was due to be displayed in the USA for the first time, but the outbreak of the Second World War led to the exhibition being cancelled. Had it not been for the outbreak of fighting once more, she may well have become an international household name.
---
IAN MCKEEVER is a painter. 
Helene Schjerfbeck is at the Gabrielle Jungels-Winkler Galleries, London, from 20th July to 27th October 2019.
---
For the latest Nordic news, follow @FikaOnlineBlog on Twitter.
---
This article has also been published in the Royal Academy Magazine.
---