BEN DOWELL explores BBC Four's latest Norwegian series: State of Happiness, finding out why the subject is important, and why the creators aren't adding any modern messages…
---
Ben Dowell
It's 1969 and a handsome young American lawyer called Jonathan Kay, decked out in snazzy jeans and cowboy hat, drives his pale blue Cadillac through the oil-rich fields of Bartlesville, Oklahoma. When he arrives at a meeting with a petroleum executive, a Pan Am ticket is slapped on the desk in front of him. It's a world of perpetual sun and good looks where people smoke and drink in offices. Yet before you start thinking you're taking a trip back to Mad Men, you soon learn where Kay's flight is heading: to Stavanger, Norway, with a brief to close down the company's last explorative oil well without upsetting too many of the locals. "It's a small fishing village," the executive tells Kay. "It's religious, rainy, cold. No real winters, no real summers, no bars. Your plane leaves in three hours." And it's in lovely Stavanger that the drama State of Happiness (Lykkeland) remains for eight episodes of seductive Scandi escapism, showing now on BBC Four.
When Kay arrives, fish stocks are low, the oil wells appear to have run dry and all speculators are poised to pull out. Yet he has a hunch that the last Phillips well may yield something valuable, and if you know anything about Norway's recent history, it's a fair bet that he's right. In fact, the real well, whose torch we see dramatically lit on Christmas Eve 1969, will not run dry until about 2050, according to the series's writer, Mette Bolstad. "It's almost a bit too neat to be true," she tells me over the phone from Oslo. Bolstad, who spent eighteen years in London, working for theatres, the BBC and Channel 4, says the story of Norway's oil boom gave her a subject she really cared about. She spent months researching it, burrowing in Stavanger's archives and poring over newspaper reports. It took her nearly three years to write. Yet she decided to avoid depicting too many real people, choosing to make her four main characters fictional. "When so much money comes into a business," she explains, "there are so many people who feel they are part of history. So many people were on that rig the moment they found oil, but if you tell their stories you're captive to their narratives. I did have had a few indirect suggestions, though… 'My father-in-law would really like it if you gave him a nod'… that kind of thing."
---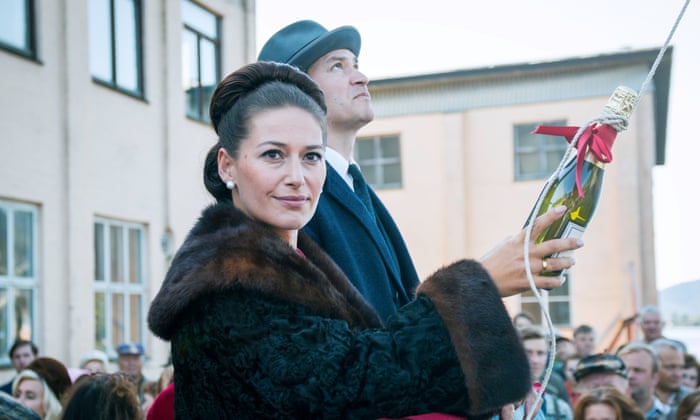 ---
Joining Kay at the head of the cast are three fictional Norwegian protagonists, all with their lives ahead of them. They are Christian Nyman (Amund Harboe), a scion of the family who own the local fish-canning business, his fiancée, Anna (Anne Regine Ellingsaeter), who has escaped her family farm to pursue a job as secretary and Arne Rettedal (Vegar Hoel), one of the few real historical figures depicted. Bolstad's "quite ruthless" writing rule was that everything that happens in the show is a direct result of the oil discovery, and she steadfastly refused to go down what she calls "soapy" cul-de-sacs, even when telling the story of her fourth main character, Toril Torstensen (Malene Wadel). Toril is a sweet, religiously minded young woman whose life is rocked at the beginning of the story when she becomes pregnant with a man from Shell who quickly moves out of town. To assuage other members of her congregation, she makes a swift and inevitably unhappy marriage to someone willing to take on her and her baby.
Real-life Stavanger in 1969 was Norway's Bible belt, Bolstad says, and although Toril attracts some disapproval from her church community, she finds a good deal of solace in her faith. "Most stories being told about religion usually end up with someone breaking out of church and losing religion. I wanted to do the opposite," Bolstad says. In real-life Stavanger, church life was as altered as any other area by the seismic changes brought by the influx of oil billions, which continue to clock up the zeros. Bolstad estimates that oil has, over the years, benefited Norway far more than the speculators who took the risks (she reckons about 70 per cent of the profits have gone into the nation's kitty).
---
BEN DOWELL'S TOP THREE NORDIC DRAMAS

Bordertown (Netflix): Detective Kari Sorjonen moves to the small town of Lappeenranta for a quite life. Needless to say, he finds no such thing.

1864 (Amazon Prime): A sweeping period drama of Denmark's ill-fated war with Prussia, weaving together personal and political stories of humiliation

Deadwind (Netflix): A Helsinki cop and widow solves cases agaisnt a backdrop of stark landscapes and beguiling local music.
---
And Mad Men? State of Happiness's cool 1960s gear, plus tons of smoking, casual sexism and ambition make comparisons with the advertising folk of New York inevitable. Bart Edwards, the British actor who plays Kay, is certainly not averse to the idea. "People have brought up Mad Men a lot," he says. "And yes, it's definitely got a Mad Men feel about it, being 1969, and there's quite a lot of smoking going on. But Norway also offers up such a huge canvas." Sue Deeks, the BBC's head of programme acquisition, is also flattered by the Mad Men comparison… to a point. "I also bought Mad Men for BBC Four and am thrilled if people compare them," she says. "It's the late 60s and there's that setting, but I think the characters in Mad Men are quite cool, aren't they? The sharp suits and so on. And this is more homely and probably more recognisable to people who remember that time."Bolstad insists that she "never thought of Mad Men" when writing this show, but concedes that the visual "palettes" are similar.
---
---
Obviously our thinking about the subject has changed dramatically in the wake of increased awareness of climate change and pollution, but does this jar with the spirit of joyous prospecting played out in the drama? That, Bolstad says firmly, is how things were at the time. "The zeitgeist is something one should try to steer away from," she says. "It's a very easy way to make yourself look intelligent, and I have very little respect for it. I don't like it. So I tried to stay away from it, those scenes where we have the perspective of 'now' talking about 'then'. This is not a Philip Morris story, this is not big tobacco. So it's important to keep that. My generation did know a bit. There was a lot of marches against pollution in my generation. But we didn't know exactly about oil."
A second series is in the pipeline (of course) and will cover the years 1977 to 1980 (series one ends in 1972). In fact, it was due to start filming last week, but has been put on hold during lockdown (they are hoping to start in September). The scripts will have a "new identity", according to the writer, taking its cast of young people into what seems like slightly darker territory. They will be older, and the problems with oil exploration will be explored with storylines involving accidents and the fallout from the 1979 Iranian revolution. "I knew I was going to be interested in this for a long time because it's the story of my country, and it's something that needs to be told and something we need to know," Bolstad says. "Series one is boomtown, and the second is when things go wrong."
---
State of Happiness airs every Saturday night on BBC Four.
BEN DOWELL is Deputy TV Editor for The Times.
---
For the latest Nordic news, follow @FikaOnlineBlog on Twitter.
---
This article has also been published in The Times.
---