It's been a while since British viewers had a large-scale 'Nordic noir' offering. That changed last month with Wisting, a less gritty, but equally thrilling, adaptation. It's a series, says its co-director TRYGVE ALLISTER DIESEN, built with the international market in mind…
---
Xander Brett
The Bridge and The Killing might have been off our screens for a while, but Britain's 'Nordic noir' influx is not over. Our latest offering: the Norwegian police procedural Wisting, which ended its run on BBC Four last month. The series is based on two novels by Jørn Lier Horst, an author of renown in Norway who is little known elsewhere. The idea of an adaptation, says its co-director Trgve Allister Diesen, has been floating for a while.
"It started with a phone call," Diesen tells me on Skype. "Various writers pitched their visions, and I was told they liked my idea. I read the books, and decided to use two novels for one series, with two distinct stories but singular character arcs running through both."
Episodes one to five are based on Horst's 2013 thriller The Caveman (Hulemannen) with episodes six to ten adapted from his 2012 novel The Hunting Dogs (Jakthundene). Adapting two books in one was a move that left viewers flummoxed and critics unhappy, but it's a decision the director stands by.
"I was very happy with the result," Diesen tells me. "In fact we're so happy, we're going to do this for series two as well."
---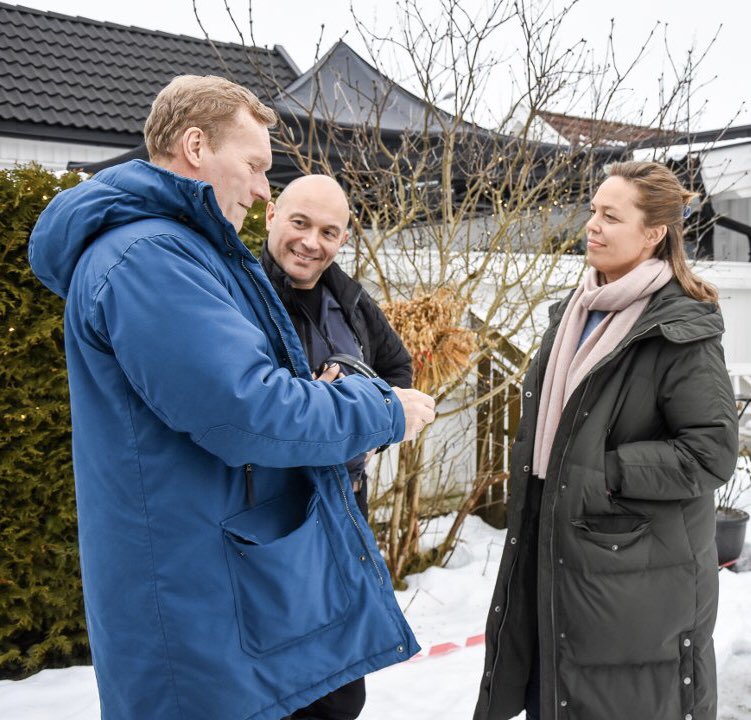 ---
Diesen with co-director Kathrine Valen Zeiner (right) and Sven Nordin (left) as Inspector William Wisting
---
The first part of this series includes a collaboration with the FBI as they track down an American serial killer. The Norwegian police team are bemused by an American approach, and the FBI's decision to carry guns. I ask Diesen what it meant to include the two, wildly different, police cultures.
"It was an opportunity to make fun of the hicks," Diesen laughs. "But, having said that, we wanted the relationship to be real; to shine a light on Norway, but not at the expense of our American cast."
The series will soon be screening in North America. It's already been sold to Russia, Australia and around six European countries. The international appeal was built into the script.
"With that sort of budget," Diesen explains, "it needed to go global. We chose the stories with the international market in mind."
With the world ready, the series became Norway's most expensive television project in history, handed a budget of over 122m NOK (£10m) from Viaplay.
"That was a lot of fun," Diesen muses. "I've worked on many crime series, but this one was different – we had the luxury of spending time designing shots."
---
---
Diesen graduated from the USC School of Cinematic Arts in Los Angeles and sold his first script two weeks later. His second film, Hold My Heart (Tyven, tyven), was chosen as Norway's submission to the Oscars, while his third film, Red, starred Brian Cox in an award-winning performance. He has also worked on numerous Swedish television projects, including the hit crime drama Arne Dahl. Surely, I ask, working with a larger crew than normal must have been daunting?
"Of course it was!" he replies. "When you're standing in -20C with so many people to control, it's hard. But with a good structure in place, having a big team was a benefit more than a hindrance."
With such a successful first series – and the promise of a second on the way – that structure certainly seems to have worked. And, so long as our 'Nordic noir' obsession continues, British audiences will continue to enjoy it. Being half British, I feel Diesen is in a good position to explain what it is that keeps British audiences tuned.
"I think the UK likes having something foreign to watch that isn't American," he replies. "'Nordic noir' is different, but there's just enough that's familiar."
---
Wisting is available now on BBC iPlayer.
---
This article is a Fika Online exclusive.
---