RACHEL DONAIDO went to Helsinki to meet Sanna Marin, the thirty four-year-old Prime Minister of Finland who breastfeeds on Instagram and shares her pasta recipe with the nation…
---
Rachel Donaido
When I travelled to Helsinki in late January to meet Sanna Marin, the millennial environmentalist who had just become prime minister, the world looked very different. Back then, reports were slowly beginning to circulate about a strange, deadly virus in China, but it all felt very far away. Finland, like many European countries, receives its fair share of Chinese tourists, and Finnair has had popular direct flights to China. In central Helsinki, I saw groups of Chinese tourists lining up outside the Louis Vuitton shop, some wearing masks, but I didn't think much of it. That was before the new normal of life amid a global pandemic arrived with stunning speed, upending so many of our assumptions and taking thousands of lives. Protecting and caring for citizens in the time of the coronavirus has challenged political leaders around the world unlike anything since the Second World War.
At that time – thinking about it fills me nostalgia – the 34-year-old Marin had been in power for just over a month. In December, she won an unexpected party vote to become Finland's new prime minister, in so doing becoming the second-youngest leader in the world (after Austria's Sebastian Kurz, aged 33). Along with her governing coalition of four women, most under 40, Marin was hailed as an icon of progressive feminism, a new leader for a new era with an ambitious agenda to match. Or at least the future as we imagined it back then. After a few weeks criticism for lax action agaisnt coronavirus, in mid-March she did something her country had never done in peacetime: she invoked the Emergency Powers Act. She also ordered the closing of the nation's schools, museums, libraries, and public gathering places, as well as its borders but, as of this writing, not its day-care centers. Day-care centers are the heart of the Finnish welfare state, and they are particularly close to Marin's heart.
It's a drizzly day in Helsinki, and Marin is crouching by the front door of her official residence, tucking her chatty two-year-old daughter, Emma, into waterproof red overalls. Marin's mother stands by, ready to take her granddaughter outside for an airing. It is such an ordinary domestic scene you forget for a moment that Marin is actually a prime minister. I have been invited to observe the morning send-off from across a receiving room in the residence, a modest 19th-century wooden mansion with a view across a cove of the pale-grey Baltic Sea, which was once the summer redoubt of Russian governors general. The water is normally frozen at this time of year, but it's been an unseasonably mild winter. Once Emma and her grandmother are out of the door, Marin offers me a brisk handshake. "That was my daughter," she says by way of greeting. She's dressed sensibly in slim black trousers, black pumps, and a black button-down blouse flecked with small white half circles. Her hair is gathered loosely at her neck. As we settle into chairs at a round wooden table where a few pink and white tulips stretch their long necks from a glass vase, Marin tells me Emma just had a birthday, but she and her partner, Markus Räikkönen, delayed the celebration. "I was working."
Women in politics are forever asked how they balance work and family, while male politicians are too often given a pass on the question. But Marin is happy to talk about Emma, as well as her own childhood. She was brought up by a working-class mother and her same-sex partner, and was the first in her family to graduate from university. She would like it known that she is a living example of the benefits of the Finnish welfare state; that Finland's generous parental-leave policies can stimulate the economy, not hinder it; that its world-famous schools helped her get where she is today. And that Finland wants to lead the way in fighting climate change, with a goal to become carbon neutral by 2035. "It's very ambitious, but I think we can manage it," she tells me in perfect English, with just a hint of an accent. Marin has smooth, pale skin, round cheeks highlighted with a tiny bit of pink rouge, and alert green-blue eyes. When she speaks, she comes across as measured and a bit remote, quite cautious, but also warm. Here in Finland, where people tend to speak their minds directly, she has a quiet dynamism, exuding composure and competence. She's less a firecracker than an eco-sustainable light bulb: slightly low-wattage and a bit cool but trusted, dependable, and likely to last a long time.
---
---
Climate is the issue that brought Marin to politics when she was 20. "I think it was the frustration of noticing that the older generation didn't realise how important it is," she says. "Climate change is the issue that everybody in my generation thinks about. It's the Berlin Wall of our generation." Although few in Finland expected Marin to rise so fast, she had been a star in the centre-left Social Democratic party. Widely admired for her equipoise and directness, she had co-written the party's environmental platform and had been a member of Parliament since 2015. In December, when her predecessor, Prime Minister Antti Rinne (a male, boomer-era union leader), was forced to resign in the wake of a strike, her party chose her in a narrow vote to replace him. Suddenly her image was ricocheting around the world, with British tabloids storifying Marin's well-curated social-media feeds and declaring her a leader for the Instagram era. Her young female-led coalition was hailed as a countercurrent to the right-wing nativism sweeping across Europe, and it prompted soul-searching in countries dominated by male leaders.
The reality is more complex. Marin's government is fragile by Finnish standards, and its critics say it has set impossible goals in trying to boost economic whilst capping emissions. That was before coronavirus crisis hit. Marin has had to find consensus with her four coalition partners, who share a gender but not necessarily an ideology. They are the Green Party, whose dynamic leader, Maria Ohisalo, the interior minister, has as much star power in Finland as Marin; the Left Alliance; the more free-market-friendly center-right Centre Party; and a Swedish-language party. Meanwhile, the right-wing Finns Party, which hopes to restrict immigration, has led in opinion polls – a clear sign Finland shares political weather patterns with the rest of the West. Though Marin's government is expected to serve out its four-year mandate, the Social Democrats hold just forty seats in Parliament, while the Finns Party have thirty nine. "We have a very left-wing government for a country that is not so left-wing at all," says Emilia Kullas, the director of EVA, a pro-business think tank in Helsinki.
I ask Marin about this rightward tendency. "Our job is to give people hope," she replies. "One of the reasons there are so many populist movements in Europe is that people are frustrated and lacking hope. They have lost their jobs. They are worried about the income of their family. They are worried about the future of their children. And I think when you have hopelessness and when you feel that you are mistreated, then you are trying to find answers to your life. Populist parties give simple answers to complicated questions."
---
---
"Our job is to give people hope. Populist parties give simple answers to complicated questions."
---
The Finns I speak to during my five-day visit admire her but are more concerned about whether her government will deliver. Still, there's excitement about the attention she's drawing to Finland "We used to be famous for Nokia. She's the new Nokia," says Anna-Liina Kauhanen, a reporter and columnist for Helsingin Sanomat, Finland's leading daily newspaper. Finland is a small country of just 5.5 million people, but it punches above its weight in terms of soft power: the egalitarianism, family benefits, and forward-thinking environmentalism that Marin embodies. And so it's no surprise that she's been making the most of her position on the world stage. A few days after becoming prime minister, Marin met her European counterparts in Brussels, where in a sea of dark-blue suits, two women in particular stood out: Marin and Merkel. Two months later, Marin received rapturous press at the World Economic Forum in Davos, where she spoke about Finland's commitment to gender equality and its climate goals. And what about her 2019 trip to the Trump White House? "It was very interesting, and it was a great honour to be at the White House." They discussed 5G technology and ice-breaker ships, Marin tells me. On another afternoon I wander around Helsinki's Central Library, Oodi, an architecturally stunning and inviting space that feels like a combination of library, café, day care and DIY heaven, where you can read a book or reserve a conference room, sewing machines or 3D printer. The space is designed for easy access to prams, so it's normally filled with parents and small children. At a comfy bench in the entrance hall, Ari and Hanna Slioor, a 30-something couple, are busy wrangling their two-year-old, Aino. Both tell me they like Marin, though they'd voted for the Left Alliance. "She knows what she's talking about," Ari tells me. "She says what she thinks."
It's on the issue of benefits for parents that Marin becomes most animated. She shows me pictures on her phone of the famous baby box that all Finnish new mothers receive from the state – stylishly designed, filled with clothes and products, a stuffed animal and a snowsuit with grey and green polka dots. The practice dates to the 1930s and was a way to encourage parents to get prenatal care. On her Instagram feed, Marin has mastered performative pregnancy and parenthood. Here she is, very pregnant, in formal attire with Räikkönen, her partner, in a tuxedo. There's the baby box. Then here she is breastfeeding Emma. Or Emma snuggled into a little metal basket of a crib on wheels, which Marin tells me she rented and returned once Emma had outgrown it. In the home scenes, there's plenty of natural light and Marimekko ceramic plates and bowls.
When Emma was born, Marin and Räikkönen split their parental leave in half: they both took six months separately. Of course, it helped that her mother and Räikkönen's parents all live within walking distance of their home in Tampere, a formerly industrial city north of Helsinki. Marin has said that after her Social Democratic party voted to make her prime minister, she called Räikkönen to ask if it was okay for her to accept, and he said of course, he'd already spoken to her mother to sort out the child care. "If there is a situation where Emma is sick and we have to take her home, it's my husband's job to do this. He's the best," she says, smiling.
The couple met when they were 18, in Tampere (she says at a party, he says at a bar). "She was a little bit more serious than her peers," he tells me when we meet for coffee in downtown Helsinki. "The important thing is to be supportive," he says. "She may talk about some issues and I can act as a sounding board." While we're speaking, someone with a baby in a winterproof pram comes to sit at the next table. She doesn't recognise Räikkönen, and that's how he likes it. Though he makes cameo appearances in Marin's Instagram feed, he prefers to keep the focus on her. He works for a communications company and comes more alive talking about Finland's tech culture (Angry Birds was born here, and so was Linus Torvalds, the software engineer who invented the Linux operating system). He shows me how he can pay for parking with an app on his phone.
Marin and Räikkönen have been engaged for several years but aren't yet married. Neither proposed to the other, it was more of a joint decision, Räikkönen says. Both are focused on work and spending time with Emma, with scant downtime devoted to the occasional movie or series. Marin admits she's seen the cult hit Borgen, about a fictional Danish prime minister, but if she sees herself at all in the character of Birgitte Nyborg, who navigates the infighting of a fractious multiparty coalition, she isn't saying. All leaders have every decision questioned, every move cross-examined. Marin's response, as for many in her generation, seems to involve deploying Instagram. She can curate her image herself, revealing as much or as little as she wants, keeping total control. In 2017, when Marin was an MP, the couple took a three-week holiday to Italy (by train, of course). Marin likes going for walks in her scant free time, and she's a keen cook, recently coming to the aid of an acquaintance who jokingly posted a request on social media for government help with a pasta recipe: a flash of Nordic humor, mocking the nanny state. "And of course, as Prime Minister of Finland, I had to respond," she says. She posted her recipe for tomato sauce with capers.
---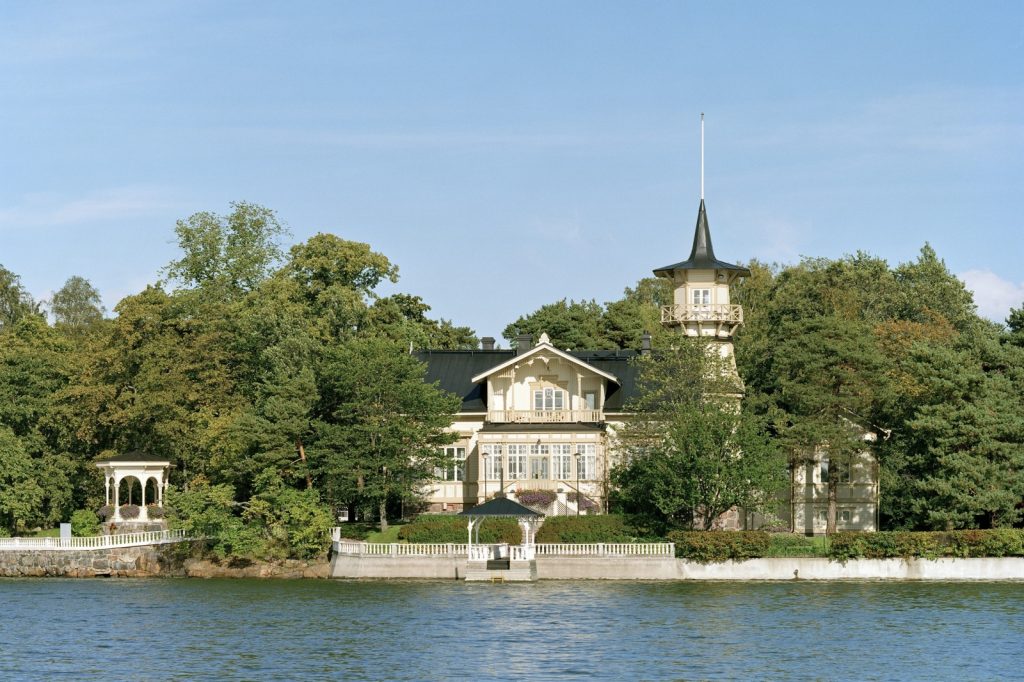 ---
Though Marin and Räikkönen divide their time between Helsinki and Tampere, they'll move operations to Helsinki full-time before the next school year, once they find a slot in day care for Emma. "Everything works. Everything is arranged in a way that you don't have to go through a lot of trouble to arrange your life," says Anu Partanen, the author of The Nordic Theory of Everything, a memoir recounting the culture shock she faced when she moved from Finland to Brooklyn. Partanen sees Marin as a poster child for the Finnish model. "Because of the education system and high-quality social services, it's been possible for her to come from a not supereducated, privileged background to become prime minister and at a young age," she explains. "It speaks well for the system."
Back at the official residence, Marin and I talk about the unfrozen sea, a clear effect of global warming. "Of course I'm worried," Marin tells me. "Of course we all should be very worried about this. And not just worried – we should all act, or this will get much worse." The pandemic is still weeks away when Marin tells me this, but I'd like to think her sangfroid is what Finland needs to guide it through the crisis. We hear Emma in the other room, who has returned from frolicking outside with her grandmother. Marin greets her and helps her take off her muddy boots and red overalls. Emma babbles something in Finnish, and Marin explains she's saying she no longer needs her pink hood now she's back inside. I tell Marin's mother she has an important job. "I'm the most important person in the country!" she replies, leading Emma upstairs. The small girl peeks down through the wooden banister. Marin waves to her, and then it's back to work.
---
RACHEL DONADIO is a freelance American writer.
---
For the latest Nordic news, follow @FikaOnlineBlog on Twitter.
---
This article has also been published in Vogue.
---